About the Books
Evangelism: Go Make... (Matt. 28:19)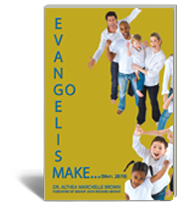 This is an instructive guide book and study aid that describes evangelism in spiritual, practical, and meaningful ways to help anyone who has a genuine interest in evangelism as a ministry. It is packed with tools designed to work efficiently in various congregations regardless of its size and location—interurban, urban, suburban, or over rural communities. In this enlightening guide, she scrupulously tackles one of the most critical issues concerning men and women's spiritual journey. It addresses how the church reaches others, as it encourages the children of of our heavenly Father's interest to properly utilize the divine gift of outreach.


Furthermore, it helps readers know more about Jesus of Nazareth and offers a way to win the lost, to redeem the wayward, and to reconcile the marginalized members of the communities. It employs various effective methods, techniques, and tools that can be useful to the church, the Body of Christ and its leaders, as they seek to fulfill Christ Jesus' "Great Commission," that is, to make disciples—sheep of the church (members) should make other sheep (members), for shepherds (pastors) do not make sheep (members).

Lastly, this guidebook and study aid is an authoritative resource for how the power of the Holy Spirit empowers believers TODAY to persuasively impact the nation. The reader will gain tools to go from being quiet and shy to evangelizing the world for the glory of our heavenly Father!
Holy Spirit: Fruit and Gifts Seminar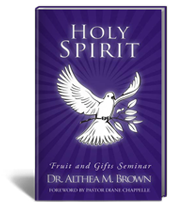 This guidebook and study aid is a timely contribution in this end-time season of the church. It is a great tool to help the Body of Christ understand these two ministrations of the Holy Spirit. It is also timely in that it is a required teaching for the maturing of the saints.


As the Body of Christ comes into a clearer understanding of what it means to be "in Christ" and to have the "mind of Christ," the knowledge of the fruit and gifts of the Holy Spirit is a required dynamic in order to produce effective ambassadors of Christ.
Praise and Worship: Heaven's Address

Every weekend, millions of people attend "worship" services. Pastor Tony Evans says, "Worship is one of those activities every sincere child of our heavenly Father he or she ought to be doing and even wants to do. We are not always sure how to go about it."

Many churches have not experienced genuine worship in years. He or she lacks the type of praise that evokes the presence of Holy Spirit and the explosion of the anointing. A.W. Tozer warns, "Without worship, we go about miserable." How true! You are going to love this guidebook and study aid! The author inform us first about the differences between praise and worship. The author proceed to answer such questions as:
What are the styles of praise?
What is the connection between praise, worship, and spiritual battle?
Why worship?
When do you worship?
What motivates you to worship?
There is much for all of us to learn. This guidebook and study aid provides us with a clear, detailed plan for learning and teaching others. Each teaching session lists the necessary materials and equipment, timing for each activity, narrative for the presenter, PowerPoint presentation, and copious scriptural references. The guidebook and study aid ends with a comprehensive and helpful glossary of operational definitions. It is all easy to follow and execute.

If you are a pastor, staff member, Sunday school teacher, worship leader, or Bible student, this guidebook and study aid will help you to determine if you—as an individual or your congregation as a whole—are involved in genuine praise and worship. It is a wonderful tool for every local church, seminary, or study session. Instead of being miserable, as Tozer suggests, you will be mighty.